A story of local innovation and global success
March 1992 - The Journey Begins
March 1992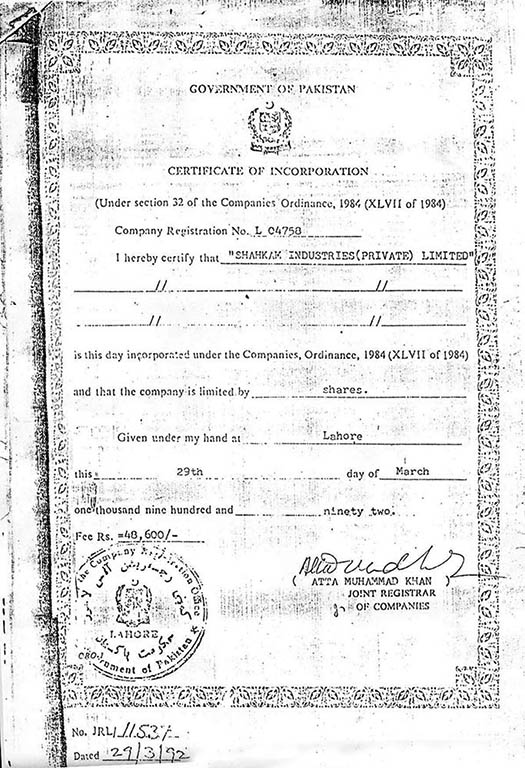 Company Registration Established
June 1992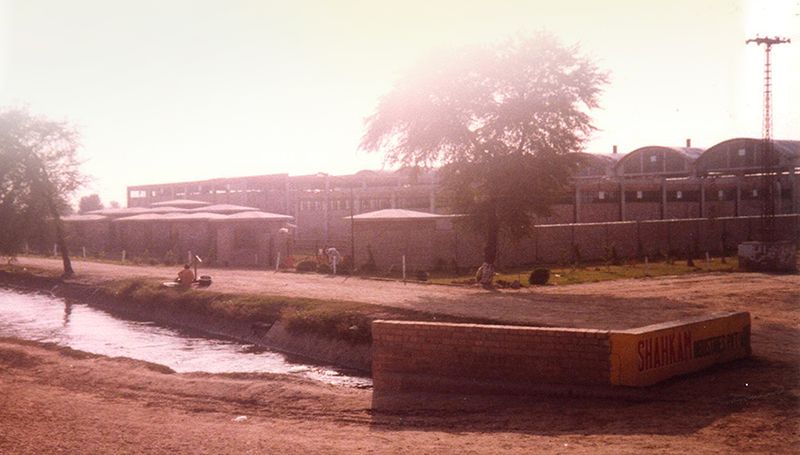 Shahkam Industries was founded in 1992 by the Honorable Chairman Mr. Muhammed Kamil Butt. The Chairman laid down the foundation stone in June 1992 at 23 KM Multan Road, Lahore, Pakistan.
July 1992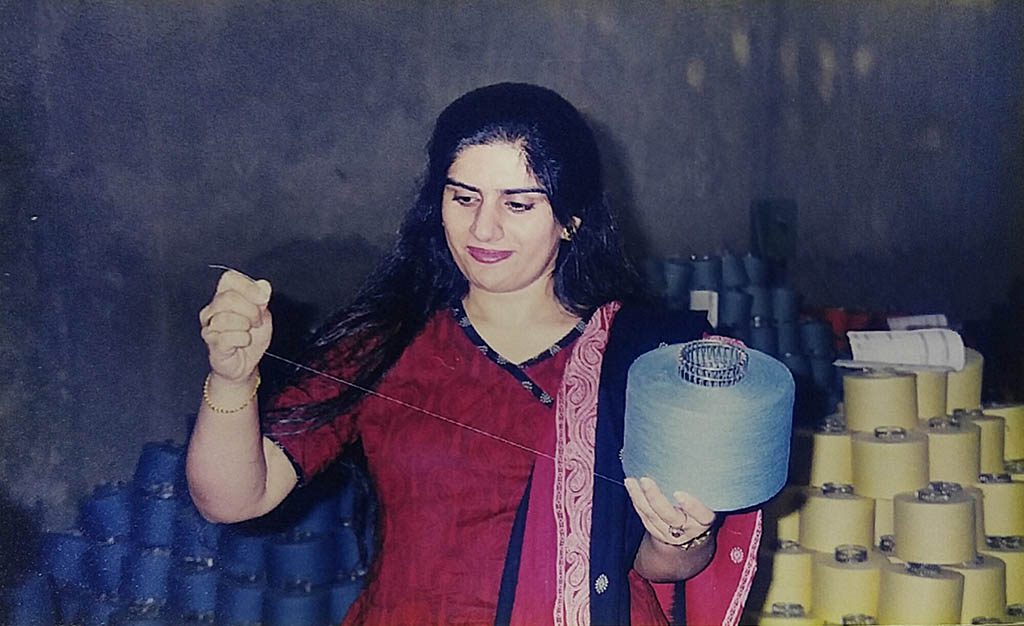 Our first Managing Director was Saiqa Butt
Ms Saiqa Butt joined us and thus started the Shahkam legacy of executive involvement in our family run business.
October 1992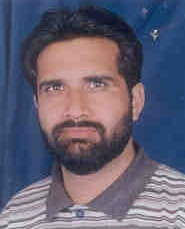 M. Amin, first employee of Shahkam Industries hired on 1st of October, 1992. He is still employed as General Manager Knitting.
November 1992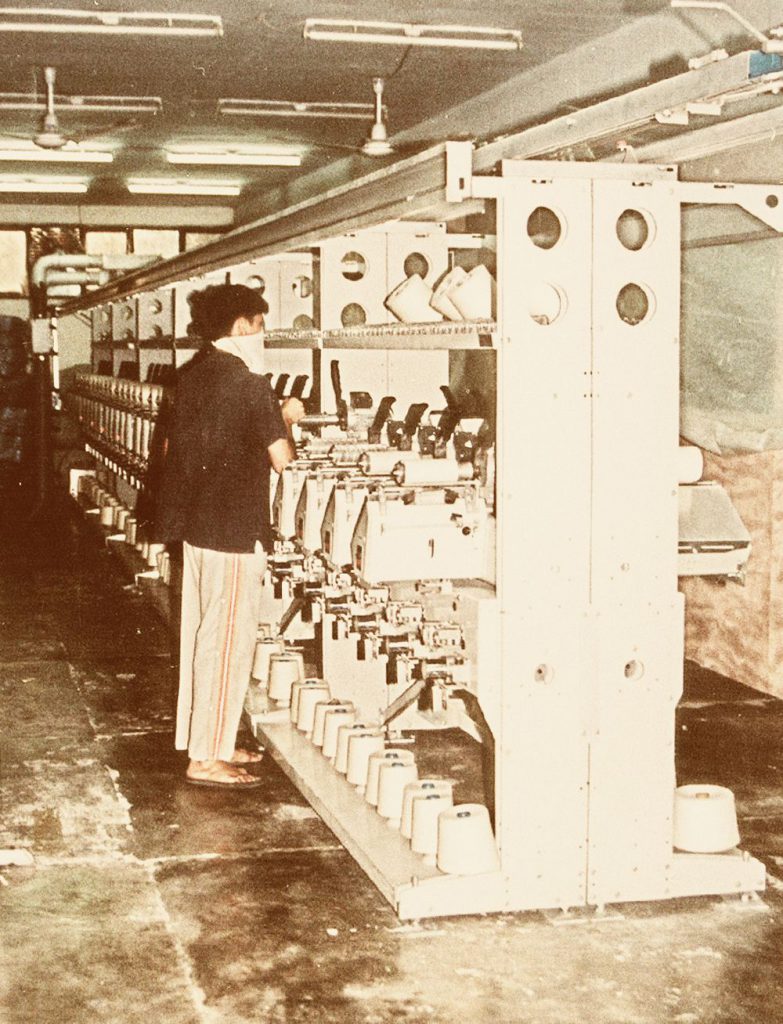 The factory was completed with in a short span of time. Shahkam Industries first milestone was achieved when its production was started in November 1992.
February 1993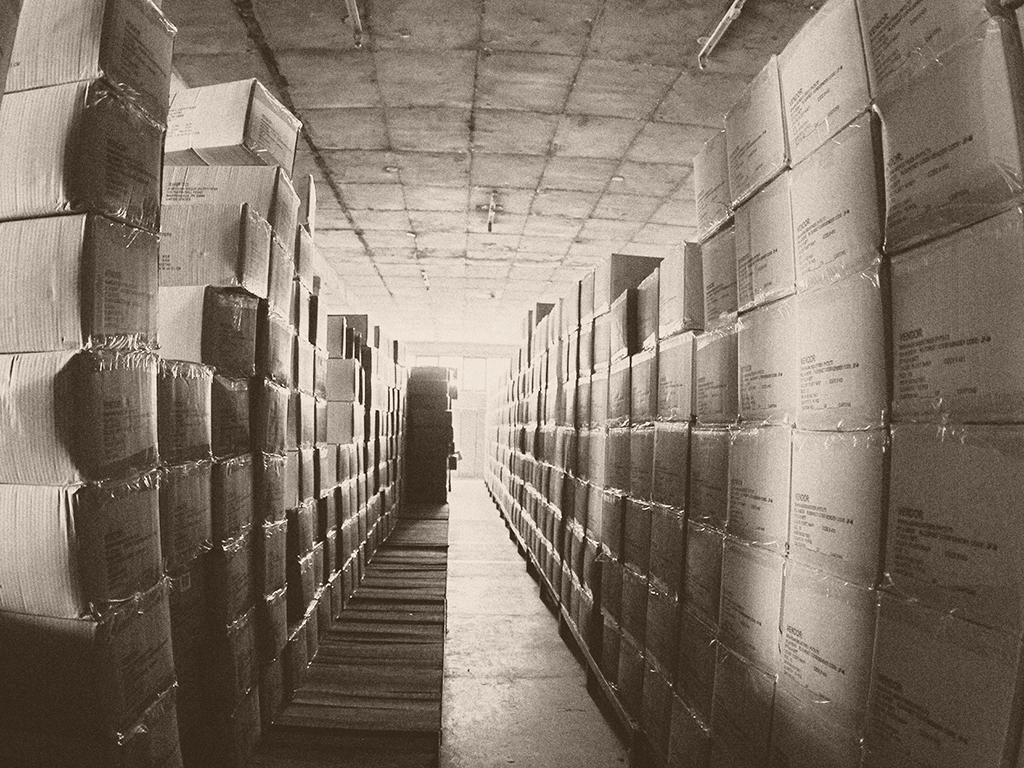 First Export Shipment
Shahkam Industries started its consolidation journey and successfully exported its first shipment in February 1993.
December 1993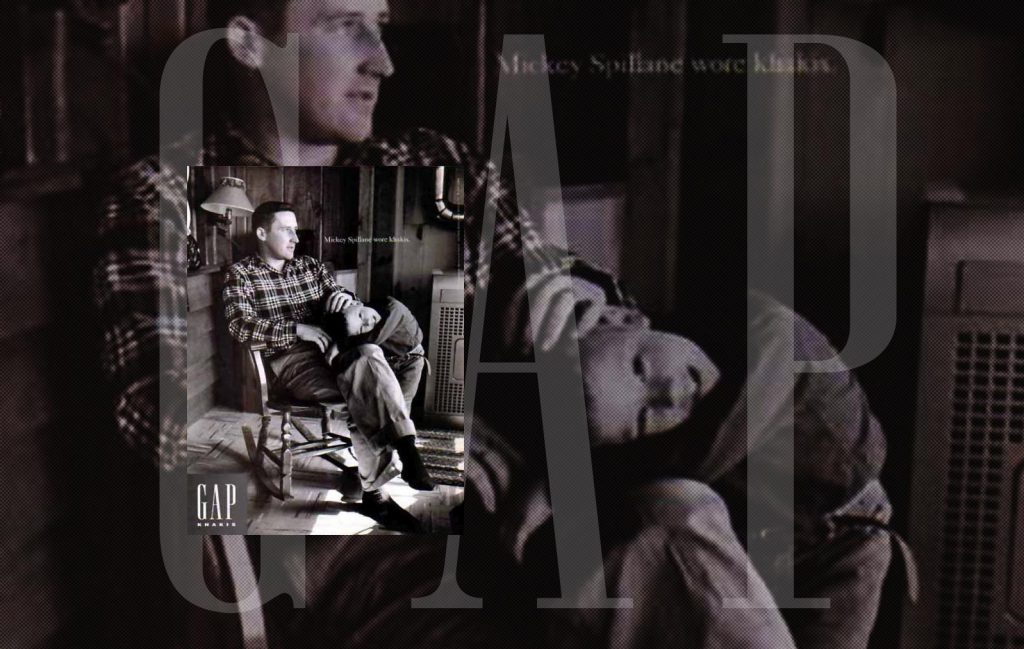 First Order with GAP
Shahkam Industries succeeded to link itself with well renowned international brands and received it's first order from the GAP. Total sales volume of Shahkam was 439,033 pieces in 1993.
February 1994

First Order with Target
Continuing to add international clients Shahkam received its first order from Target Corporation. Production output was increased manifold and a new bench mark of sales volume was reached, which was 1.5 Million pieces.
December 1994

Vendor Excellence Award
The professional approach and commitment of Shahkam was acknowledged by Target Corporation and received a production & excellence award from them.
December 1994

First Annual Dinner of Shahkam Employees.
Continuous success and progress depends on the consistent performance of human resources. Taking pride to develop it's relationship with it's employees, the Chairman hosted our first annual dinner. Employees were encouraged with cash benefits based on their performance and attendance.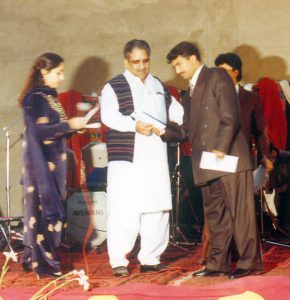 May 1995

Yarn Dyeing Started
From inception Shahkam Industries was focused on development and expansion to cater to the needs of its international buyers. Another milestone towards vertically integrated production was achieved when we started our own in-house yarn dyeing in May 1995.
June 1996

Stitching Expansion
Meeting the growing production needs, stitching facilities were enhanced from 3 to 5 units.
June 1996

First Batch of Striper Knitting Machines Imported
Production facilities were further strengthened by adding 3 Striper knitting machines. Currently we have a fleet of 53 Striper Knitting Machines. By 1996, our production volume had reached to about 2.5 Million pieces per annum.
1997

Shahkam Football Team Established
In keeping with a desire to establish a bond with the local community our football team participated in and hosted many tournaments.
October 1998

Annual Cricket Tournament
Our annual cricket tournament was first organized amongst the factory's different departments. For employees' motivation, players of the Pakistani national cricket team were invited to give prizes to winning teams and individuals.
1999

Profit Sharing with Employees
The Honorable Chairman initiated a profit sharing scheme for employees. A benchmark was set to share 15% of profit with employees on a quarterly basis.
June 2001
Production Facilities Increased
Growing demand from our clients resulted in the need of 100% increase in our stitching facilities. Shahkam grew from 5 to 10 stitching units. In addition knitting & dyeing facilities were also enhanced.
In comparison to 1996, our production volume was increased from 2.5 to 4.5 Million pieces in 2001.
October 2002

Waste Water Control System
To keep up with environmental changes and requirements we installed our waste water treatment plant with the capacity of 100 Cubic Meter/Hour.
November 2002

ISO 9001, ISO 14001 & SA 8000 Certificates
In compliance with the international standards, Shahkam took serious steps to receive accreditation from international institutions. Hence, with the full dedication and commitment of our professional team we successfully achieved ISO 9001, ISO 14001 & SA 8000 Certificates.
June 2002

Hajj Scheme for Employees
In an endeavor to reward employees, the Honorable Chairman approved 'Hajj Scheme' for employees. Since 2002, every year 5 employees of the company were selected through a draw to go and perform hajj on the company's expense. This number has gradually increased to 17 employees for both Umrah & Hajj visits per year.
October 2005

CTPAT – Audit by US Customs
Following the 9/11 attacks, new security checks were imposed by the US Customs. Shahkam successfully implemented all essential security and surveillance checkpoints and cleared the CTPAT audit by US Customs.
August 2005

Stitching Production Doubled
Parallel with the endeavor to achieve international certifications for standards and security, Shahkam also continued to increase its production capabilities and capacities. Hence, in 2005 stitcing production was doubled by adding 4 mega units.
May 2011

33% Expansion – Leap in Production
The dedication and commitment of Shahkam's professional team resulted in a 33% expansion of the company's production capacity.
November 2011

Quality Award From KOHL'S
Due to its commitment to quality and production Shahkam received the vendor excellence award from Kohl's
November 2011

LPG Plant for Production
As its energy needs grew, Shahkam diversified its energy supply by adding an LPG plant in 2011.
October 2012

BIO Fuel Steam Generation
Further considering the emerging needs of alternative energy resources another step was taken to generate bio fuel steam as a back-up to natural gas resource. Two huge capacity solid fuel boilers were added in to our backup energy supply system.
January 2013
 
Cafeteria for Employees
In its journey of progress, Shahkam has never forgotten the well being and upbringing of its team. A cafeteria has been established within the factory premises and employees are getting fully hygienic food at subsidized rates. To date this cafeteria has been upgraded to two Canteens & Food Halls.
April 2015

Skill Development
Our training department was established to further enhance employees loyalty, skill set and management understanding of the business.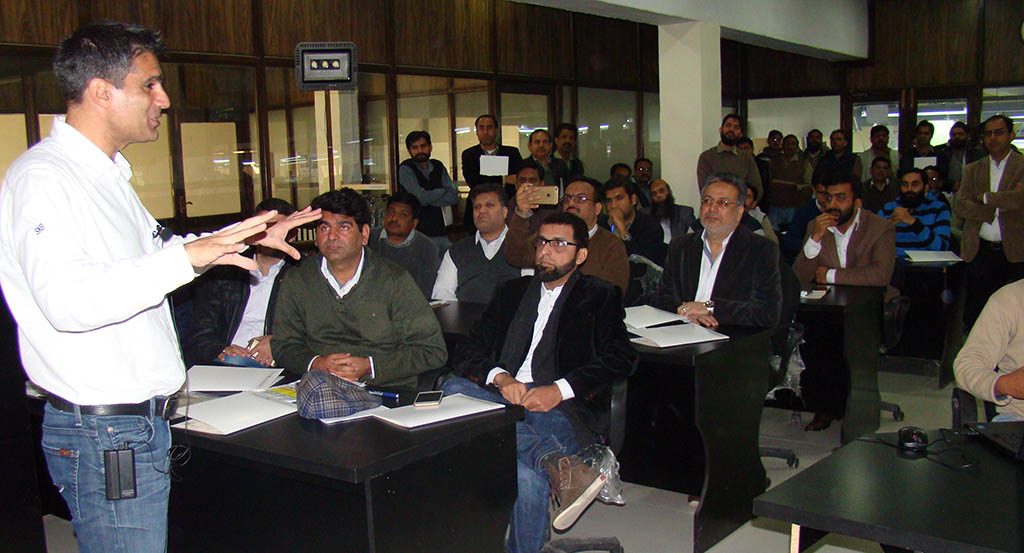 April 2015

Denim Units
New developments include the setup of new stitching units for production of Denim Garments.
May 2015

Yarn Store
A new palletised Yarn Store was built to handle our massive stock of yarn to support knitting for 3 months and above.
June 2015

Shipping Warehouse
Our Shipping Warehouse was upgraded to new capacity requirements and international compliance standards.
April 2016

Solid Fuel Boiler
A new GETABEC biofuel boiler was imported from Thailand & Germany with a capacity of 25 Tons, this was built over 18,240 Sq. Ft. It provides alternate energy from gas, coal, husk, wood pellets, corn, wheat and other biomass solid fuels.
June 2016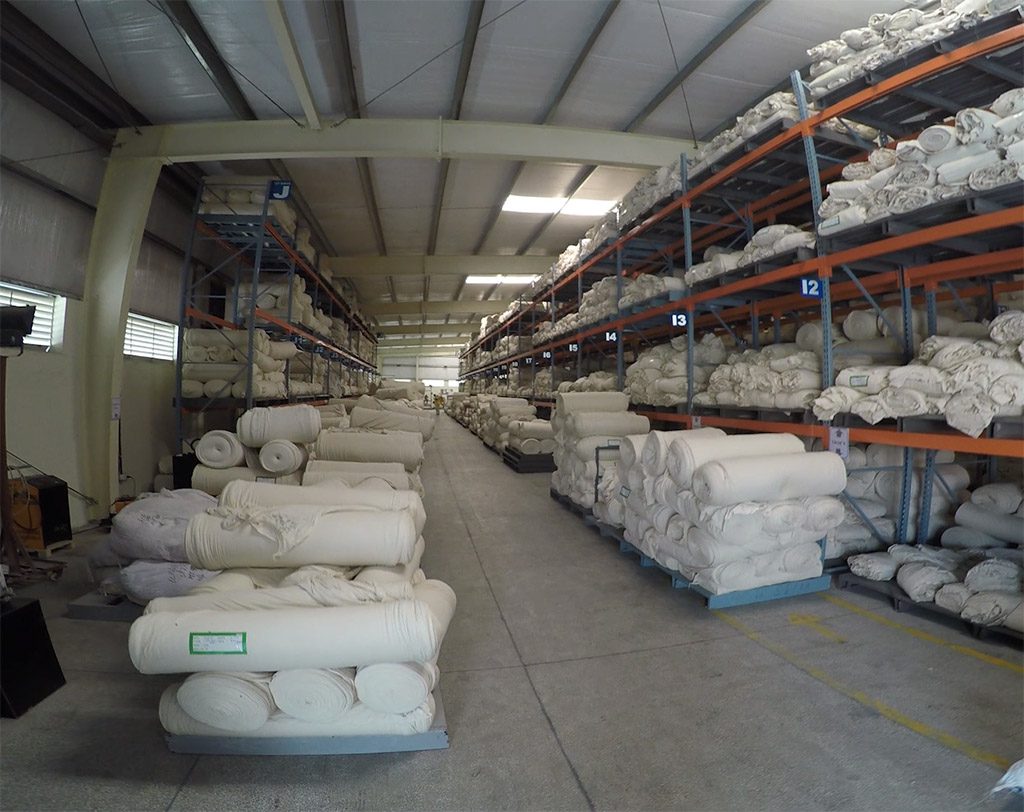 Fabric Store
A new fabric store was established in keeping with enhanced capacity requirements. Separate storage areas for collar, ecru knitted fabric and dyed fabric are provided with inventory control mechanism.
April 2017

Mega Printing Unit
Our new mega printing unit will be up and running by April 2017. This will allow us to also enhance our embroidery.
October, 2017

Silver Jubilee Celebrations
Shahkam will celebrate its silver jubilee on the 1st of October, 2017.
2018

Auto Cutter Installation
Our Cutting Department was upgraded with the installation of new Auto Cutter machine to enhance the productivity and efficiency.
2019

Auto Dosing
Shahkam Industries is moving fast towards modernizing its equipment with the installation of Auto dosing. Dyeing department's production efficiency has increased manifold.

Fabric Inspection Department
New developments include the setup of new Fabric Inspection Department to ensure the fabric quality before moving to the cutting Department.
2020

New Stentor
The installation of Stentor is a new addition towards the journey of new technology it is a specialist oven used in fabric processing for drying and heat-treating fabric after wet processing.